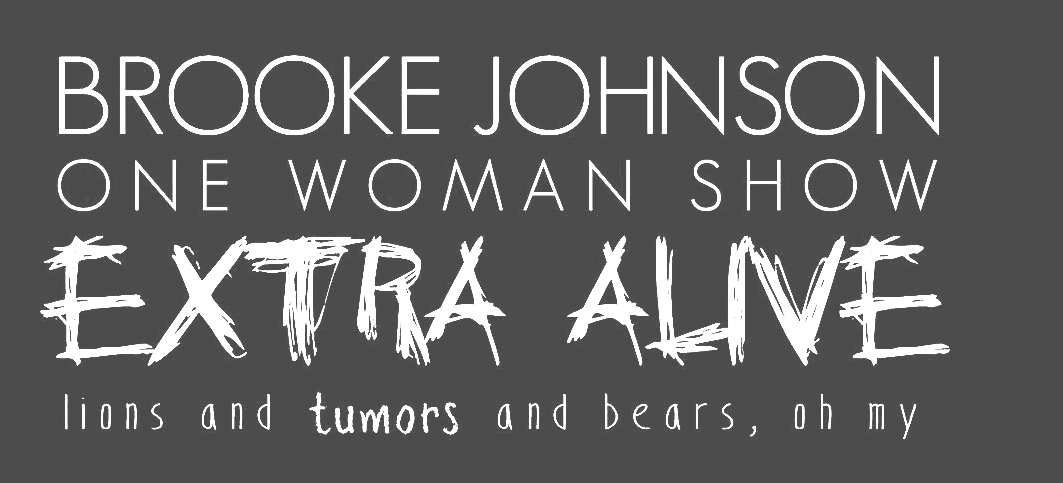 "Having myself written over 100 hours of medical TV shows, I know how hard it is to make them both honest and entertaining. Brooke Johnson has done both, and added hysterically funny, intimately personal, and hopeful."
– Tammy Ader Green: Hollywood TV Writer
"Tremendous Performance; thought provoking, emotional, full of rage and humor. A rare night in theater. Brava."
– Robert Heck: Resident Artist, Baltimore Curriculum Project
"The show does more than make you walk the line between laughter and tears but instead manages to occupy both extremes at the same time. Extra Alive is wonderfully entertaining and important."

– Dr. Gary Green, M.D.
"I'm in awe. The music, wardrobe, film clips – all so powerful. Amazing evening."

– Jennifer Smolen: Educational Grant Writer
"Brooke's fierce strength and relentless hope is contagious, she has reemerged, and ready for anything."

– Phylicia Ghee: Professional Photographer
ABOUT
Brooke Johnson's one-woman show, EXTRA ALIVE, is sure to be a cathartic experience for anyone who's mortal. Johnson was treated for a rare cancer, but this is no typical survivor memoir. Instead, she combines comedy, outrageous characters, short films, and even song and dance, culminating in a madcap cancer "revenge fantasy".
A veteran writer/actor/comedian and long time member of SAG-AFTRA, who now lives in Baltimore with her husband and two daughters, Johnson was first told she was Stage 1 but soon learned she was actually Stage 4. Overnight, her prognosis went from firm ground to the edge of a cliff.
Shooting from the hip and riffing like Phyllis Diller on crack, Johnson has taken a familiar story and spun it through her unique vision. Turns out, there's nothing she can't do with a Vitamix, a chainsaw, and a drug called hope in this hysterical comedy about survival.
Originally from Kalamazoo, Michigan, weaned on summer stock theater and college productions, Johnson spent 15 years in New York City writing and performing sketch and improv, as well as the self-authored one-woman shows, Take No Prisoners and Slightly Damaged. Her film and television resume includes appearances on The Lifetime Network, Law and Order, Spin City, and many other notable productions.